The Maryland chapter of PNHP is organizing throughout the state with multiple chapters fighting for improved Medicare for all.
Your support is vital to these efforts. With your help, we can build a powerful movement that will win health and financial security for all Americans.
Click here to make a one-time or recurring donation to PNHP-MD.
---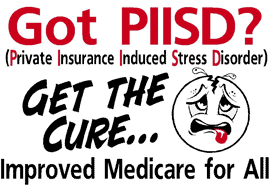 Dr. Quentin Young, long-time national coordinator of Physicians for a National Health Program, wrote "Dr. Carol Paris, a distinguished psychiatrist and a valued colleague in the campaign for single-payer national health insurance, an improved Medicare for all, has written an elegant parody that is really quite serious: the mental impact of private, for-profit insurance companies on our nation's patients and providers/physicians."
Click here to read "Diagnostic Criteria for Private Insurance Induced Stress Disorder — PIISD"
---
Doctors and other advocates of a national single-payer health system - also known as an improved Medicare for All - directly confronted senators at a Senate Finance Committee "roundtable" on health reform today.
Click here to continue reading
---
HealthCare-Now! Maryland
Formerly Maryland Universal Health Care Network
www.mdsinglepayer.org
---