We invite you to join us for our annual chapter dinner on Tuesday, April 24, 2018 in support of Healthcare is a Human Right Maryland (click here to register).
Our special guest for the evening will be David Barton Smith, author of The Power to Heal: Civil Rights, Medicare, and the Struggle to Transform America's Health Care System.
For more information, or to RSVP for the dinner, email hchrmaryland@gmail.com.
---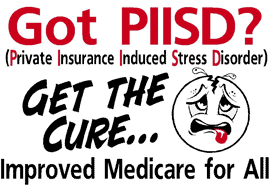 Dr. Quentin Young, long-time national coordinator of Physicians for a National Health Program, wrote "Dr. Carol Paris, a distinguished psychiatrist and a valued colleague in the campaign for single-payer national health insurance, an improved Medicare for all, has written an elegant parody that is really quite serious: the mental impact of private, for-profit insurance companies on our nation's patients and providers/physicians."
Click here to read "Diagnostic Criteria for Private Insurance Induced Stress Disorder — PIISD"
---
Doctors and other advocates of a national single-payer health system - also known as an improved Medicare for All - directly confronted senators at a Senate Finance Committee "roundtable" on health reform today.
Click here to continue reading
---
HealthCare-Now! Maryland
Formerly Maryland Universal Health Care Network
www.mdsinglepayer.org
---